August 23, 2023
Posted by:

admin

Category:

Interior Design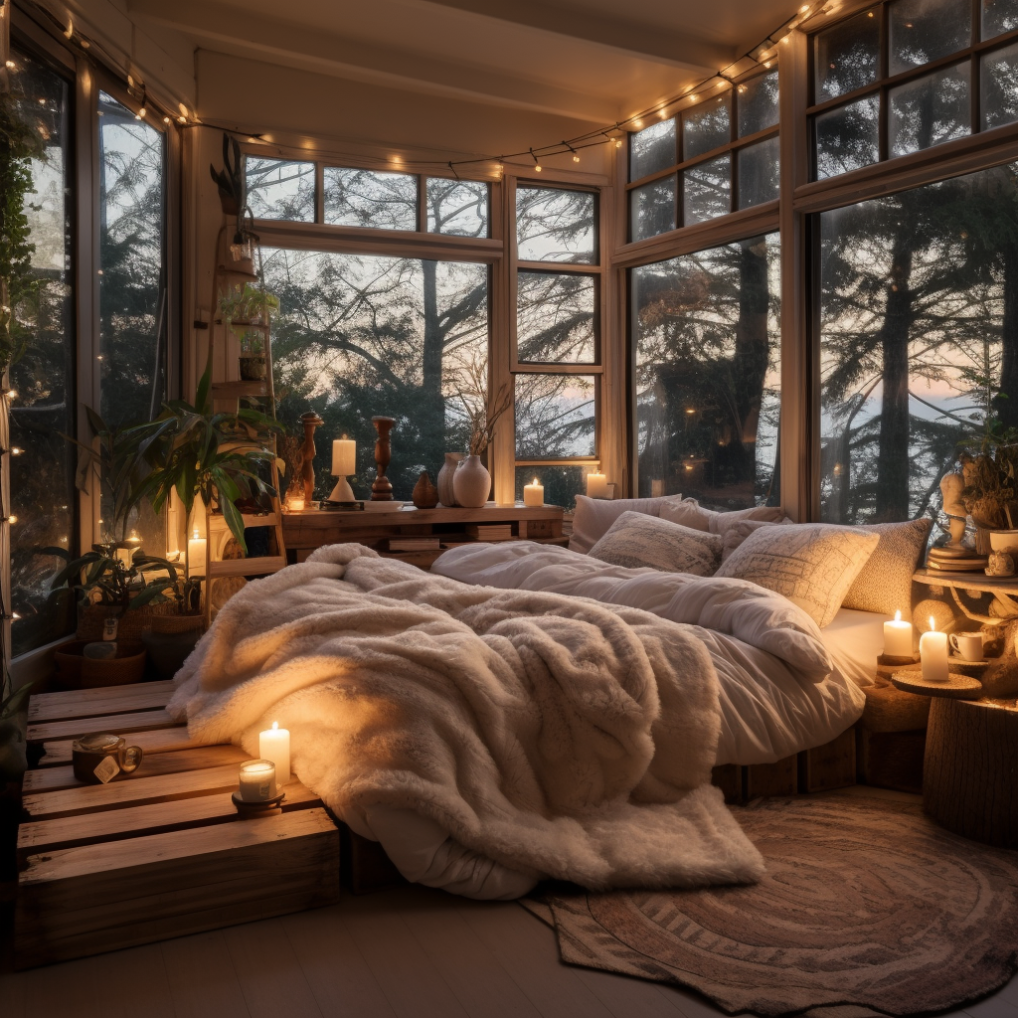 Welcome to a world of Boho Dreams and Cozy Nights—a place where your bedroom transforms into a haven of relaxation and style. Your bedroom is more than just a place to sleep; it's your personal sanctuary, and it deserves the touch of bohemian charm combined with cozy comfort. In this article, we'll dive into the realm of boho bedroom ideas and explore how to create a cozy boho bedroom that envelops you in relaxation and tranquility.
Unveiling Boho Magic: The Basics
Infusing Bohemian Flair
Boho, short for "bohemian," is a style that embraces a free-spirited, artistic, and unconventional aesthetic. Infusing bohemian flair into your
bedroom
is all about celebrating individuality, incorporating eclectic elements, and weaving together textures and patterns. Start by choosing a warm and inviting color palette, such as earthy tones and jewel hues, to set the foundation for your boho haven.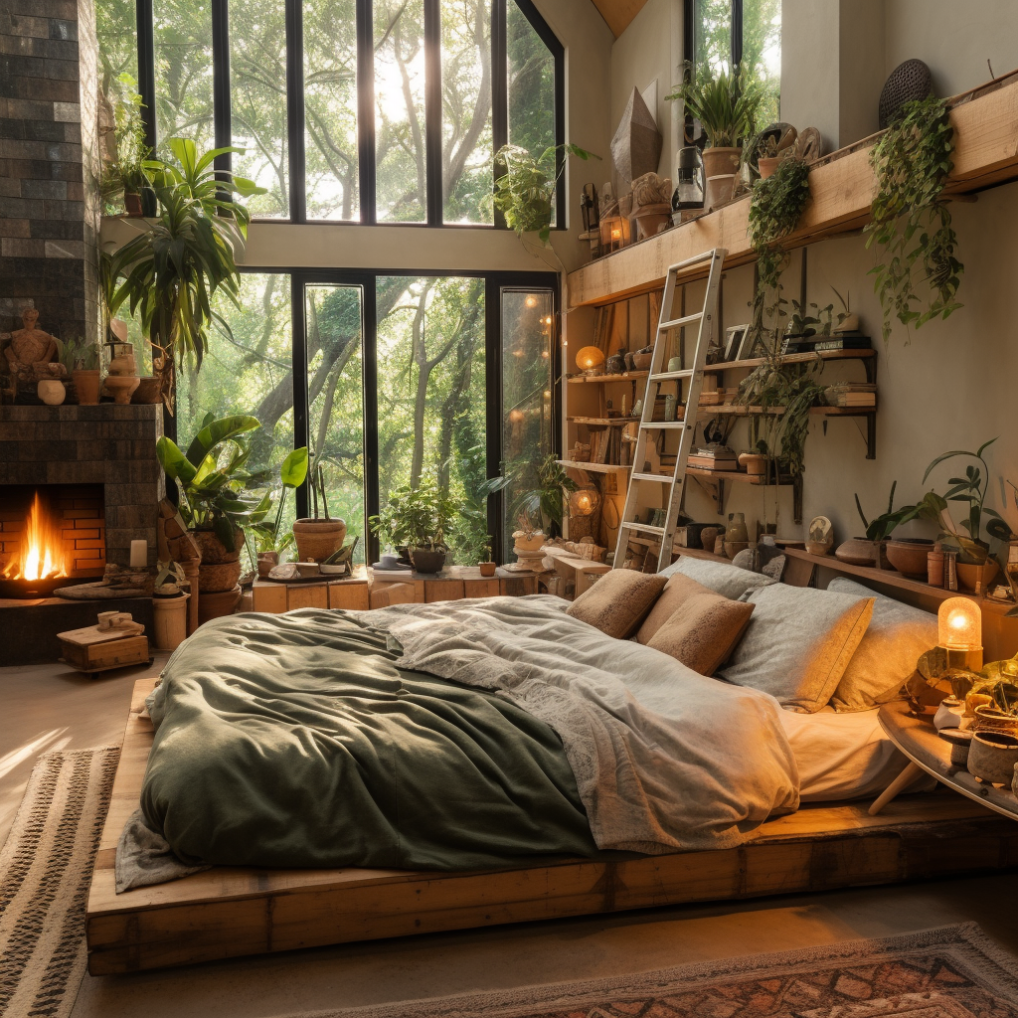 Playful Patterns and Textures
Embrace playful patterns and textures to achieve that quintessential boho look. Layer vibrant rugs on top of each other for added depth, mix and match throw pillows with various designs, and consider a tapestry as a headboard alternative. Don't be afraid to experiment with contrasting fabrics and textures, like macramé, rattan, and crochet. These tactile elements will instantly bring warmth and character to your space.
Mastering the Cozy Vibes
A cozy boho bedroom is about more than just aesthetics; it's about cultivating an atmosphere of comfort that invites you to unwind and rejuvenate. Achieve this by blending plush textiles, soft lighting, and thoughtfully arranged furniture.

Luxurious Bedding
Your bed should be the focal point of comfort. Opt for luxurious bedding in natural fabrics like cotton and linen. Layer your bed with soft blankets, quilts, and plenty of pillows in different shapes and sizes. This abundance of pillows not only elevates your comfort but also adds a touch of boho flair.
Ambient Lighting
Set the mood with ambient lighting that exudes a cozy glow. String lights draped across the roomor around the bed frame create a magical and ethereal ambiance. Consider incorporating lanterns, floor lamps, and Himalayan salt lamps for a warm and inviting glow that soothes your senses.
Personalized Haven: Infusing Your Style
Artful Displays
Decorate your walls with an artful arrangement of prints, photographs, and wall hangings that resonate with you. Mix and match frames in various sizes and styles for an eclectic look. Showcase your favorite travel memories, inspirational quotes, and artwork that speaks to your soul.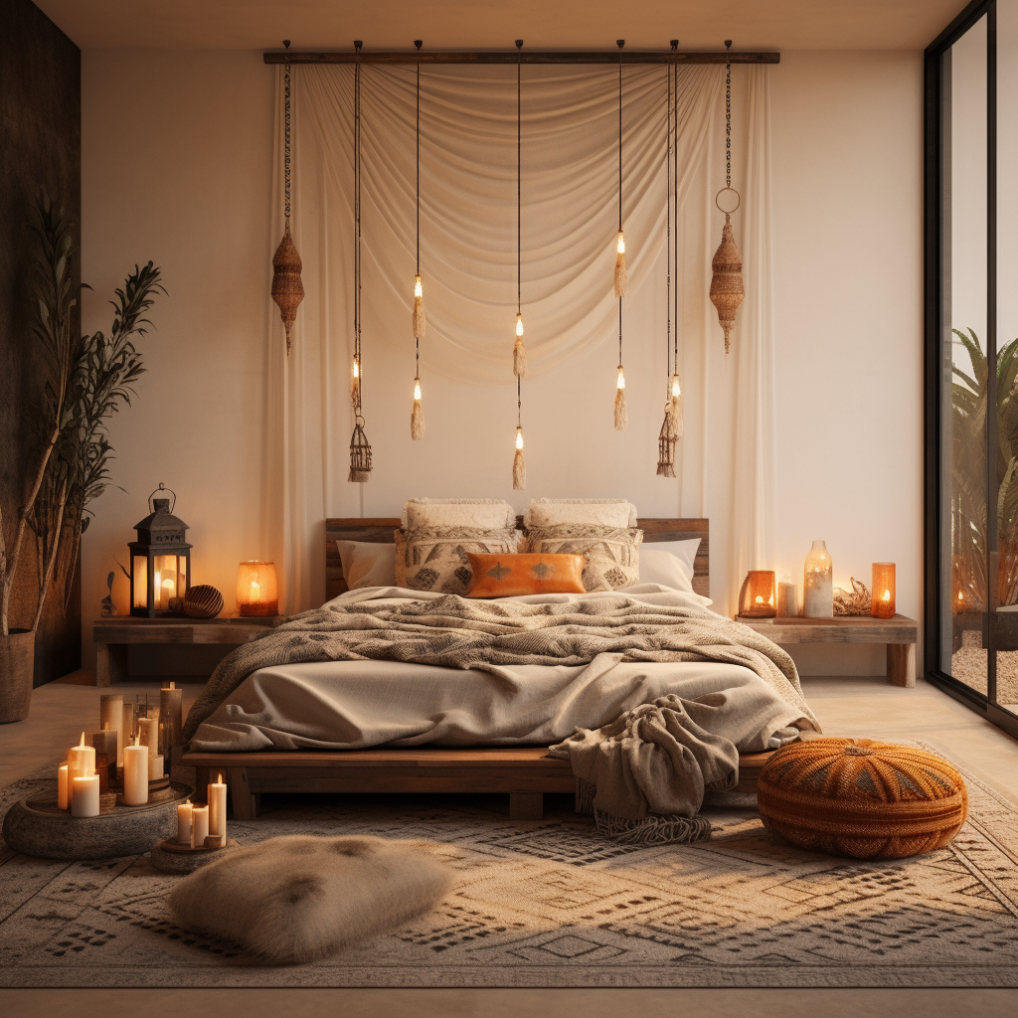 Green Oasis
Bringing nature indoors is an essential aspect of boho design. Introduce potted plants, hanging planters, and succulents to infuse life and freshness into your bedroom. Not only do plants purify the air, but they also create a serene atmosphere that aligns perfectly with the boho vibe.
Tying It All Together
Vintage Finds
Scour flea markets and thrift stores for unique vintage furniture and decor pieces. Incorporating a few well-chosen vintage finds can add character and depth to your space, enhancing the boho ambiance.
Minimal Clutter
While the boho style embraces an eclectic look, it's important to strike a balance and avoid clutter. Keep your space organized by incorporating storage solutions that are both functional and stylish. This ensures that your bedroom remains a calming retreat rather than a chaotic mess.
Conclusion
As you embark on your journey to create a bedroom that encapsulates both Boho Dreams and Cozy Nights, remember that this space is an extension of yourself. Infuse it with elements that bring you joy, comfort, and a sense of serenity. By blending bohemian flair, cozy comfort, and your personal touch, you'll create a haven that welcomes you into a world of relaxation every time you step through the door. Embrace the art of boho design, revel in the joy of coziness, and let your bedroom be a true reflection of your unique spirit. In Lithuanian, 'bedroom' is 'Miegamasis,' and if you're looking for exquisite bedroom interior design, explore the world of
miegamojo Interjeras
.