September 11, 2023
Posted by:

admin

Category:

Interior Design
The kitchen is more than just a room for cooking; it's a space where we create, gather, and connect. As we enter 2023, kitchen design trends are evolving to meet our changing needs and desires. Whether you're planning a complete kitchen overhaul or a simple refresh, this comprehensive guide will walk you through the steps to create a dream kitchen that seamlessly blends style and functionality.
Embrace Open Concept Living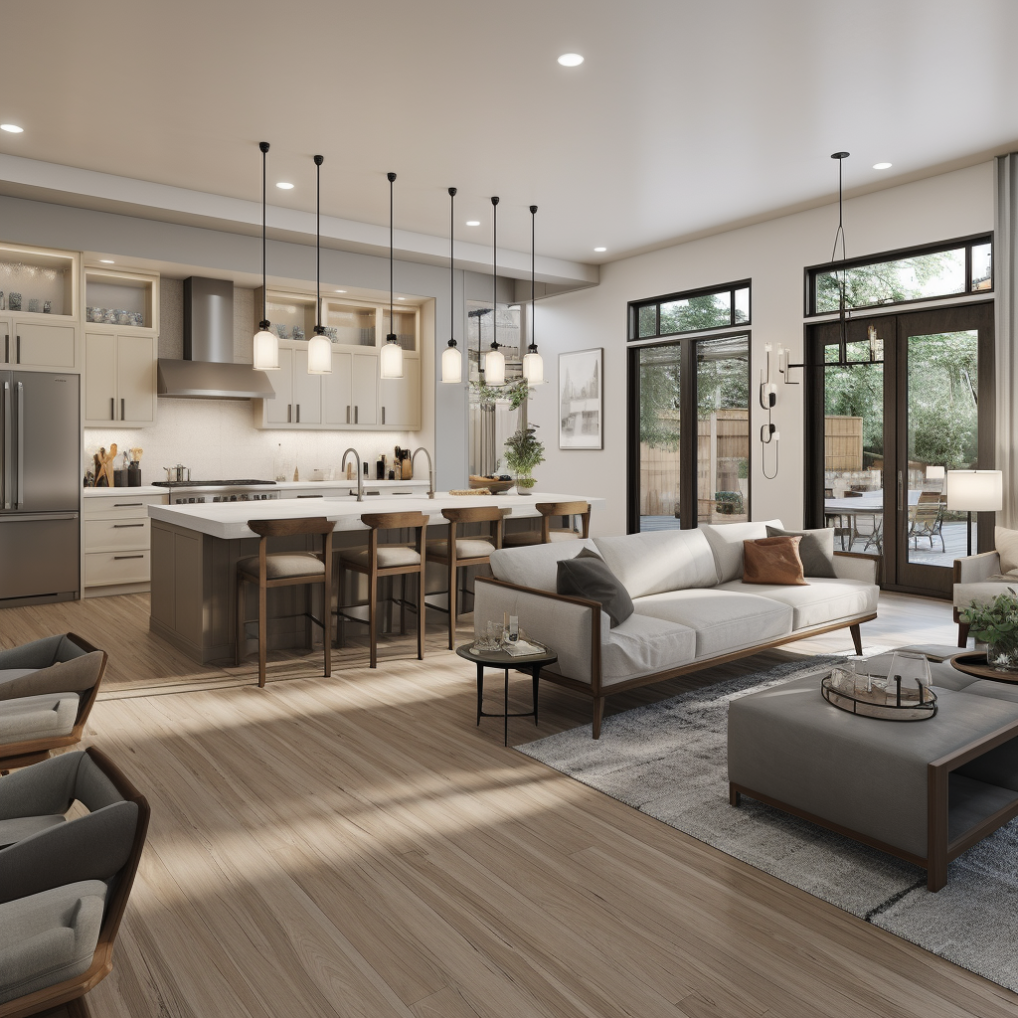 In 2023, open-concept kitchens remain at the forefront of design. This layout involves breaking down the physical barriers between the kitchen, living area, and dining space. The result? A spacious and interconnected environment that's perfect for hosting gatherings, family dinners, and entertaining guests. Open concepts foster a sense of togetherness and make your kitchen the heart of your home.
Open concept design isn't just about removing walls; it's about fostering a sense of spaciousness and connectivity. By allowing your kitchen to flow into adjacent living and dining areas, you create a fluid and inviting space that's perfect for socializing. Picture this: you're preparing a meal in your open kitchen, and your guests are comfortably seated in the adjoining living area, engaged in conversation while enjoying appetizers and drinks. It's a design choice that encourages interaction and makes your kitchen the epicenter of your home.
Nature-Inspired Color Palettes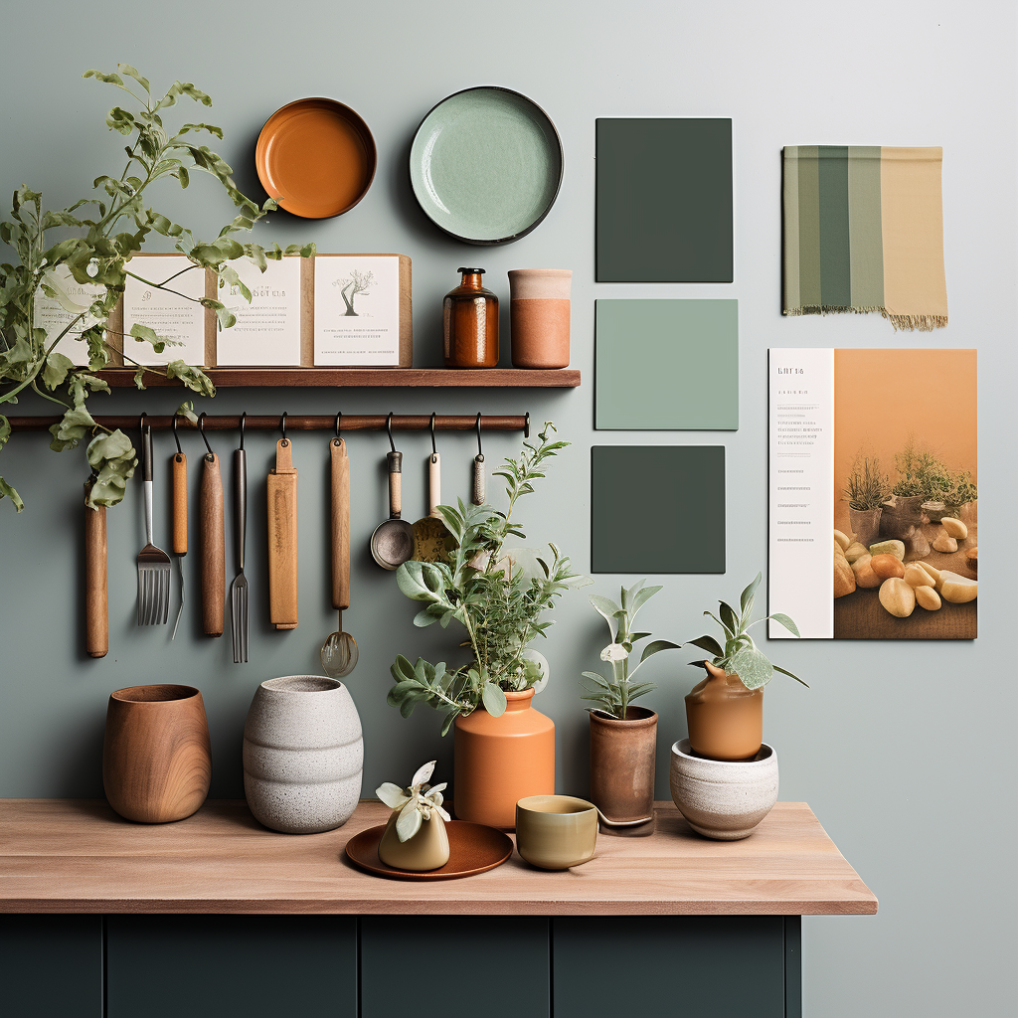 Bringing the outdoors in is a significant theme in kitchen design this year. Earthy tones inspired by nature, such as deep greens, warm terracottas, and calming blues, dominate the color palette. These colors not only evoke a sense of tranquility but also work harmoniously with natural light to create a welcoming and rejuvenating atmosphere in your kitchen.
Nature-inspired color palettes are all about creating a connection to the natural world. Deep greens evoke the lushness of a forest, bringing a sense of freshness and vitality to your kitchen. Warm terracottas reflect the rich earthiness of clay pots, infusing your space with warmth and comfort. Calming blues mimic the soothing hues of the sky and water, creating a serene ambiance.
Prioritize Sustainability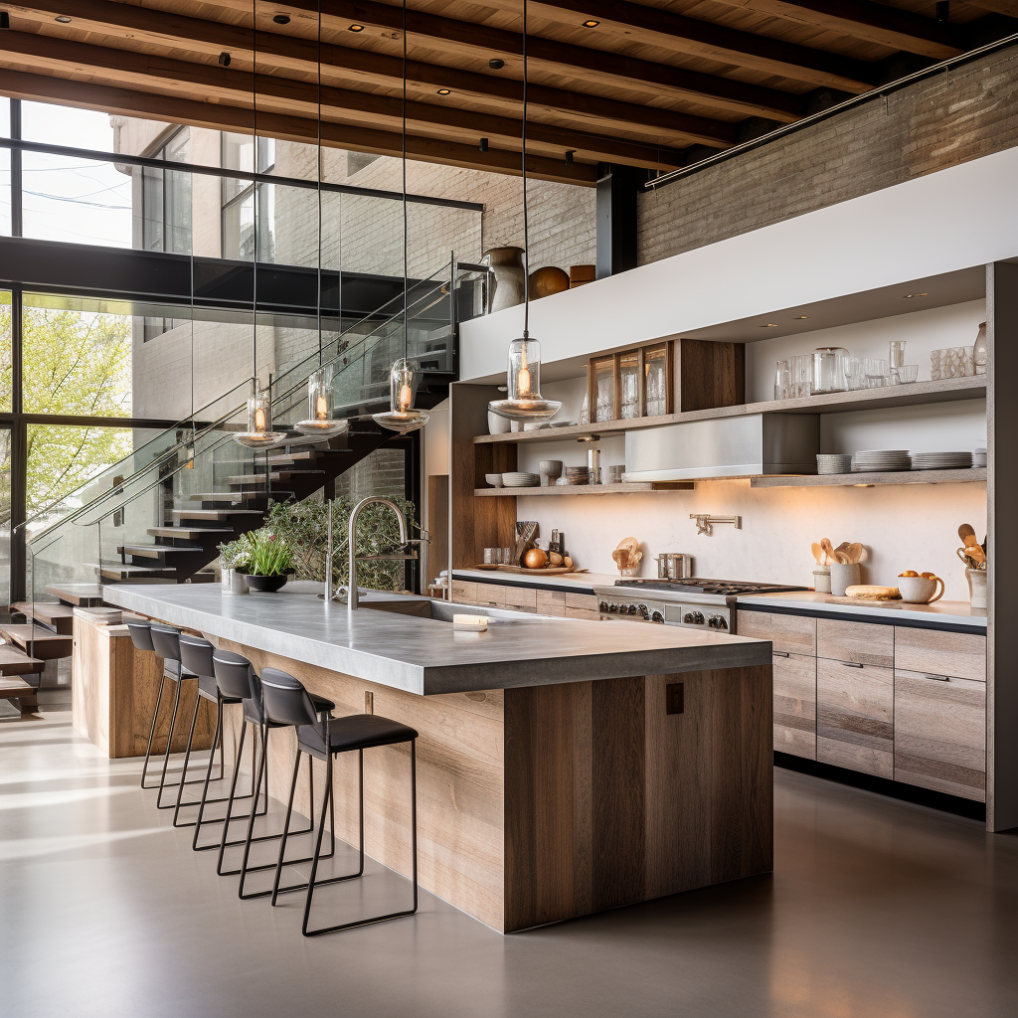 Sustainability isn't merely a design trend; it's a conscientious way of living. In your dream kitchen, consider using eco-friendly materials like reclaimed wood, bamboo, or recycled glass for countertops and backsplashes. These materials not only add a touch of uniqueness but also reduce your environmental footprint.
Sustainability in kitchen design encompasses more than just materials; it's a holistic approach that considers energy efficiency, water conservation, and waste reduction. Choose energy-efficient appliances that not only save you money on utility bills but also contribute to a greener planet. Install smart faucets that reduce water usage without compromising functionality. Composting and recycling stations can be seamlessly integrated into your kitchen's design, making it easy to reduce kitchen waste and minimize your impact on the environment.
Integrate Smart Technology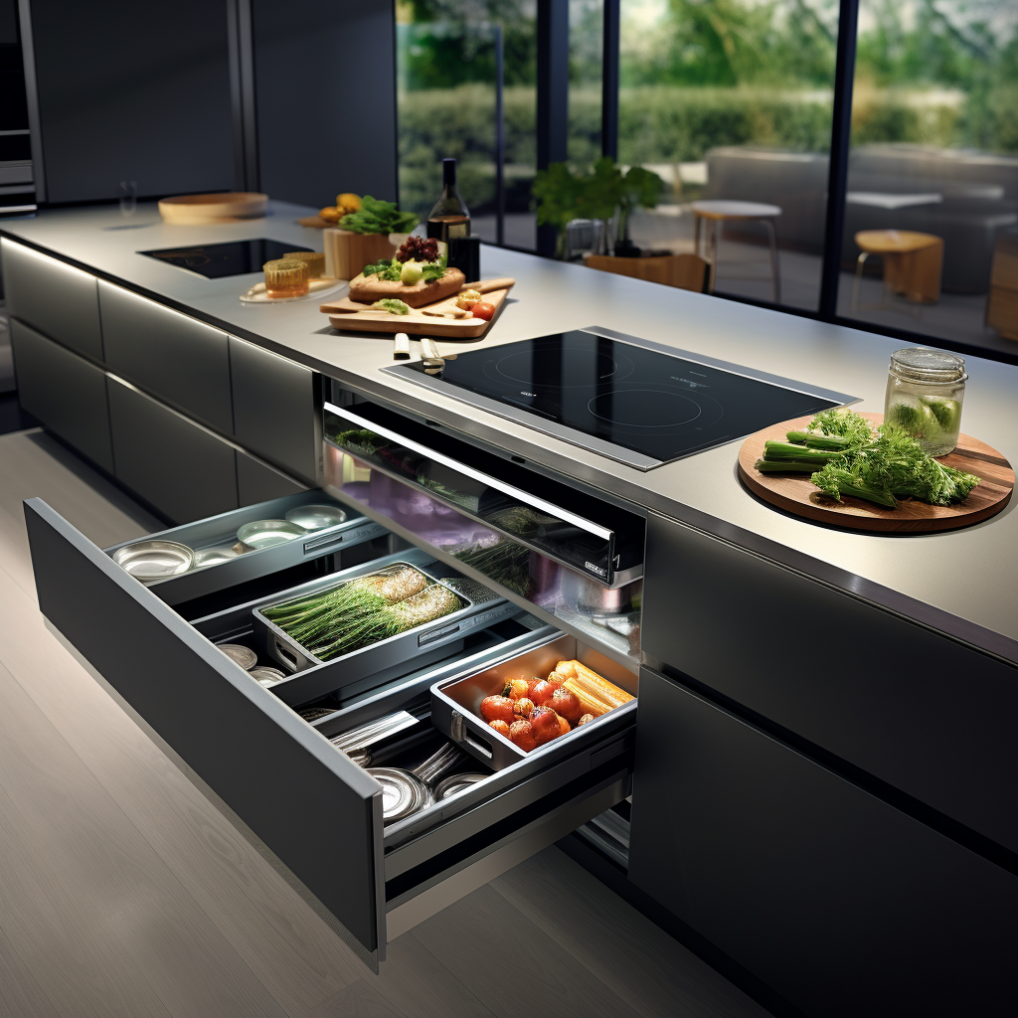 Welcome to the era of smart kitchens. Embrace technology with appliances that offer remote control through your smartphone. Imagine preheating your oven on your way home or checking the contents of your fridge while at the grocery store. Smart technology not only enhances convenience but also contributes to energy efficiency, making your kitchen smarter and more eco-friendly.
The integration of smart technology in the kitchen isn't just a matter of convenience; it's a transformation of how we interact with our culinary spaces. Smart appliances like ovens, refrigerators, and dishwashers can be controlled remotely, allowing you to streamline your cooking process and manage your kitchen even when you're not at home. Moreover, these appliances are often equipped with energy-saving features, contributing to a more eco-conscious kitchen.
Optimize Storage Solutions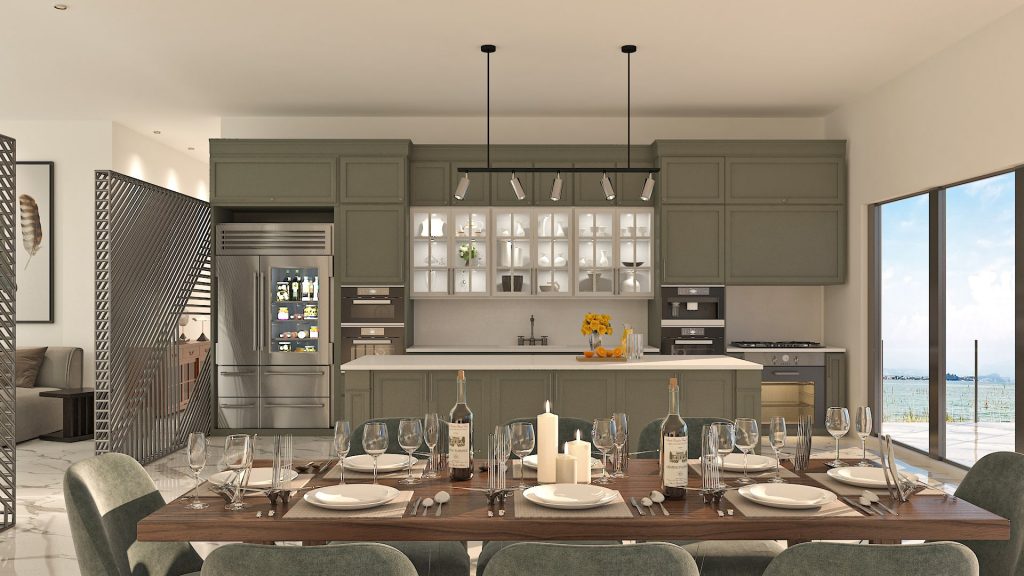 Efficient storage solutions are the foundation of a functional kitchen. In your dream kitchen, think beyond basic cabinets. Explore innovative solutions like pull-out pantry shelves, drawer dividers, and corner cabinet organizers. Customized cabinetry ensures that every inch of space is utilized efficiently, allowing you to keep your kitchen organized and clutter-free.
When it comes to kitchen storage, the key is to maximize every square inch of available space. Pull-out pantry shelves are a game-changer, offering easy access to your pantry items without the need for deep shelves that can hide forgotten items. Drawer dividers keep utensils and kitchen tools neatly organized, eliminating the frustration of rummaging through cluttered drawers. Corner cabinet organizers utilize those tricky corner spaces, ensuring that no space is wasted and that every pot, pan, or appliance has its place.
Play with Mixed Materials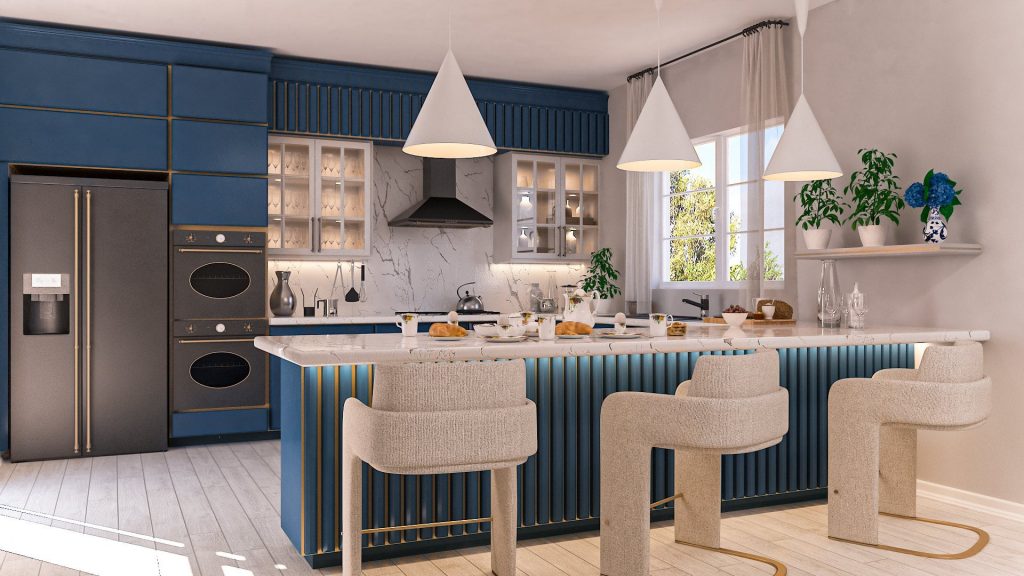 2023 brings an exciting trend of mixing materials in kitchen design. The idea is to create a visually appealing and dynamic space by combining various materials. Consider pairing natural wood with sleek metal accents, or juxtapose matte and glossy surfaces. These combinations add depth and character to your kitchen, making it a unique and engaging space.
Mixing materials is a design strategy that adds layers and personality to your kitchen. Natural wood provides warmth and a touch of rustic charm, while sleek metal accents introduce a contemporary edge. The interplay of matte and glossy surfaces adds visual contrast, creating a dynamic and visually intriguing space. Whether it's the combination of wood and metal in your cabinetry, or the contrast between matte countertops and glossy backsplashes, the mixing of materials allows you to craft a kitchen that's uniquely yours.
Make a Statement with Backsplashes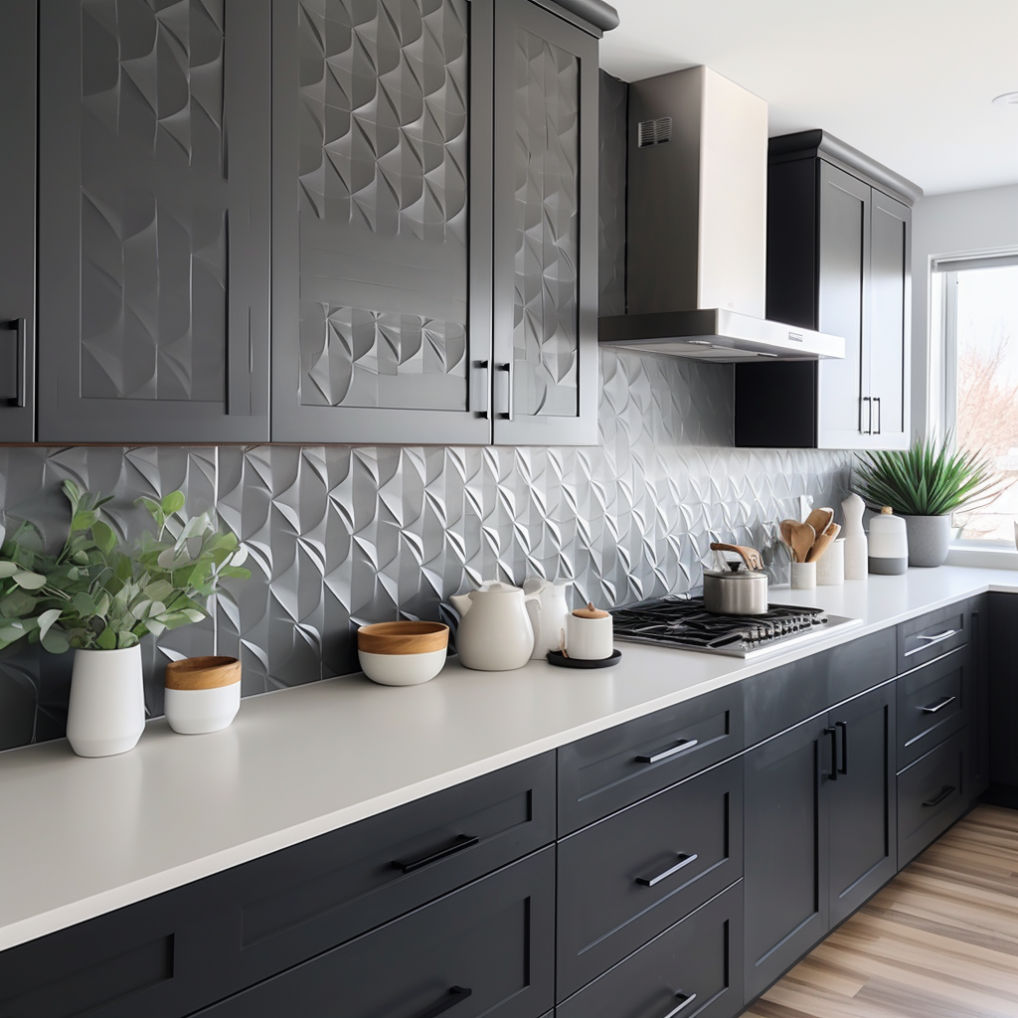 The kitchen backsplash serves both functional and aesthetic purposes. In 2023, bold and unique backsplash designs are in vogue. Think colorful tiles, intricate patterns, or textured materials. Your backsplash can become a captivating focal point that adds personality and style to your kitchen.
Backsplashes are an opportunity to infuse your kitchen with personality and style. Consider colorful tiles that create a vibrant and energetic atmosphere or opt for intricate patterns that add a touch of artistry to your culinary space. Textured materials like brick or stone can introduce depth and character, transforming your backsplash into a visual masterpiece.
Illuminate with Style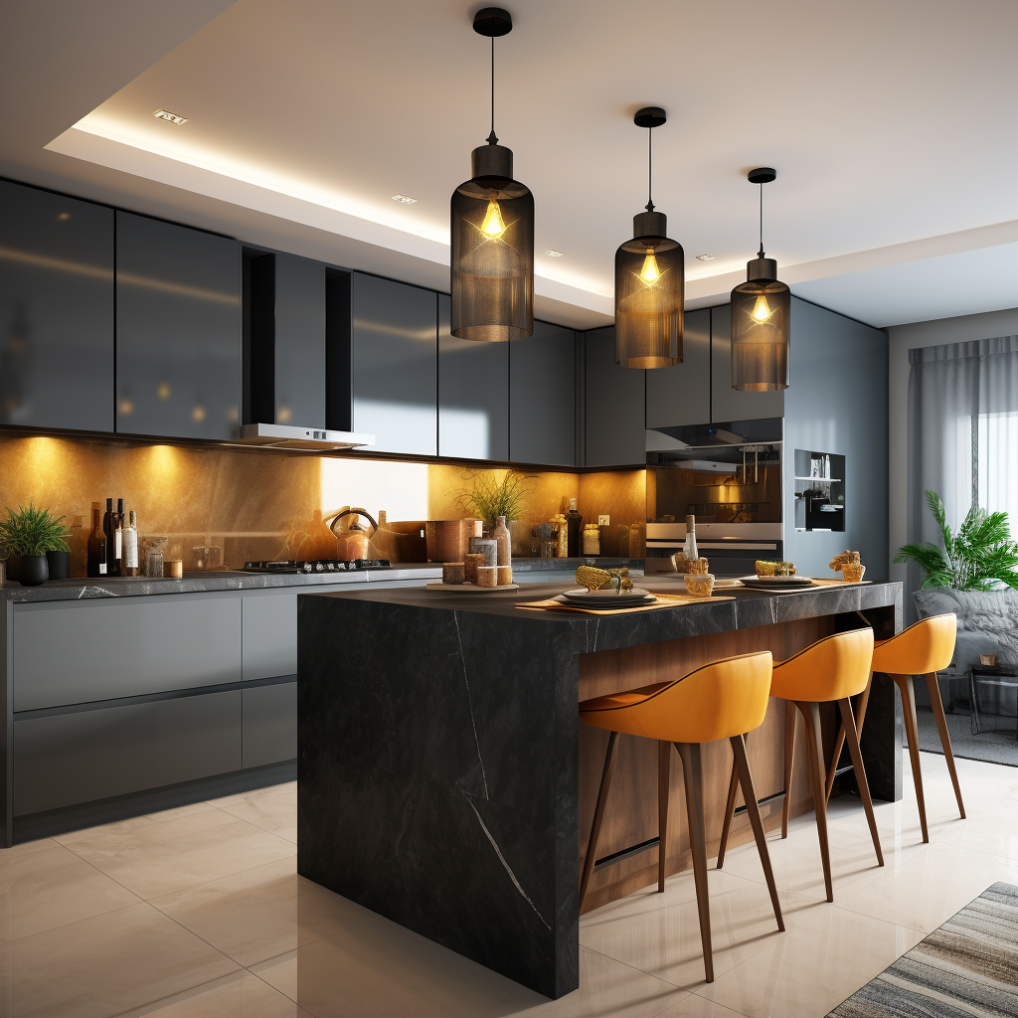 Lighting is a crucial element in kitchen design. Opt for statement lighting fixtures like pendant lights or chandeliers. These not only provide ample illumination but also add a touch of elegance and style to your kitchen. Under-cabinet lighting can serve both functional and aesthetic purposes, making your kitchen tasks more comfortable and visually appealing.
Statement lighting fixtures are like the jewelry of your kitchen, adding a touch of glamour and sophistication. Pendant lights can be selected to complement your kitchen's style, whether it's a cluster of sleek glass pendants for a modern look or rustic, wrought-iron fixtures for a more traditional ambiance. Chandeliers over a kitchen island or dining table create a dramatic focal point, casting a warm and inviting glow. Under-cabinet lighting, on the other hand, not only enhances the ambiance but also serves a practical purpose, illuminating countertops and workspace for efficient meal preparation.
Create Cozy Gathering Spots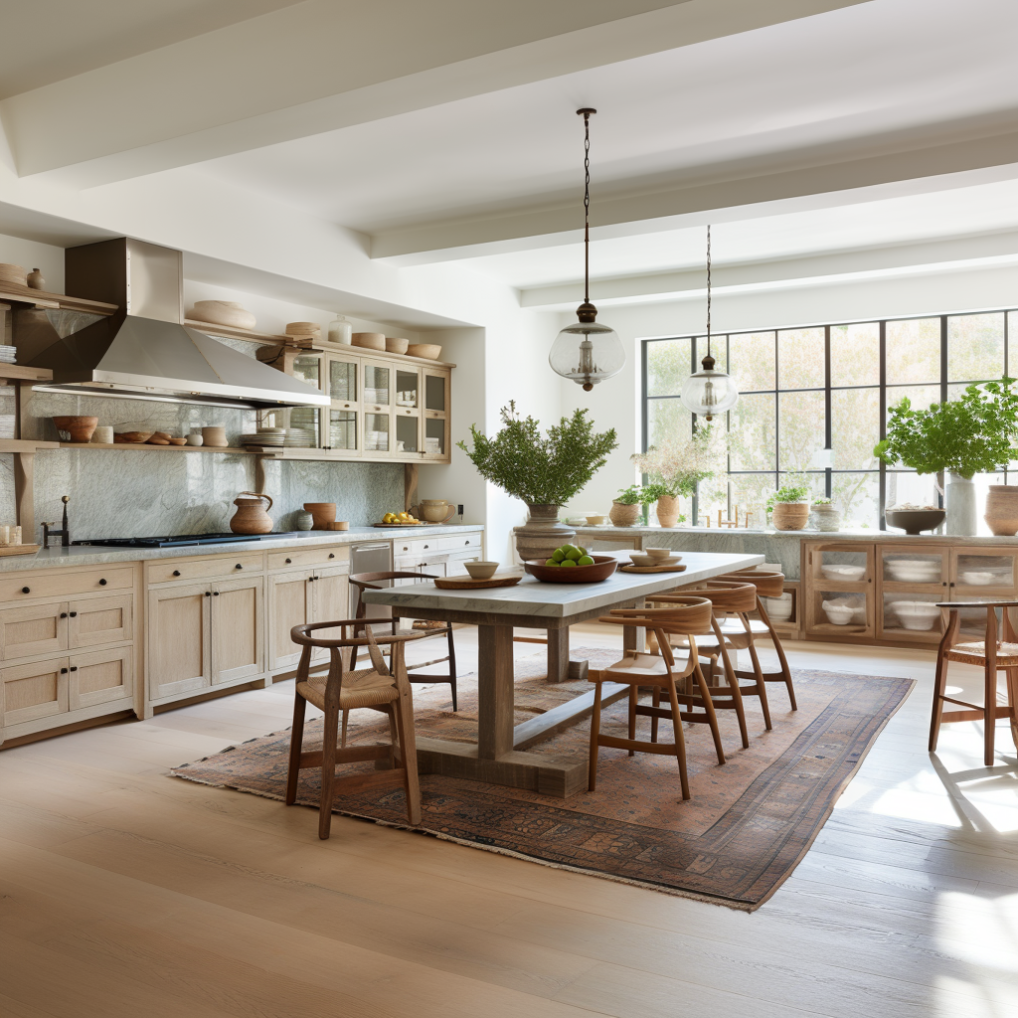 Your dream kitchen should be more than just a place to cook; it should be a space where family and friends gather. Incorporate cozy seating areas within your kitchen's layout. Whether it's a built-in breakfast nook, an inviting island with barstools, or a comfortable bench by the window, these spaces encourage relaxation and socializing, making your kitchen the heart of your home.
Cozy gathering spots in the kitchen are a testament to the evolving role of the kitchen as a multi-functional space. A built-in breakfast nook offers an inviting place for morning meals, while an island with barstools becomes a casual dining area or a spot for guests to enjoy appetizers while you prepare dinner. A comfortable bench by the window provides a cozy retreat for reading or sipping coffee, making your kitchen a space that's not just for cooking but for living.
Personalize Your Kitchen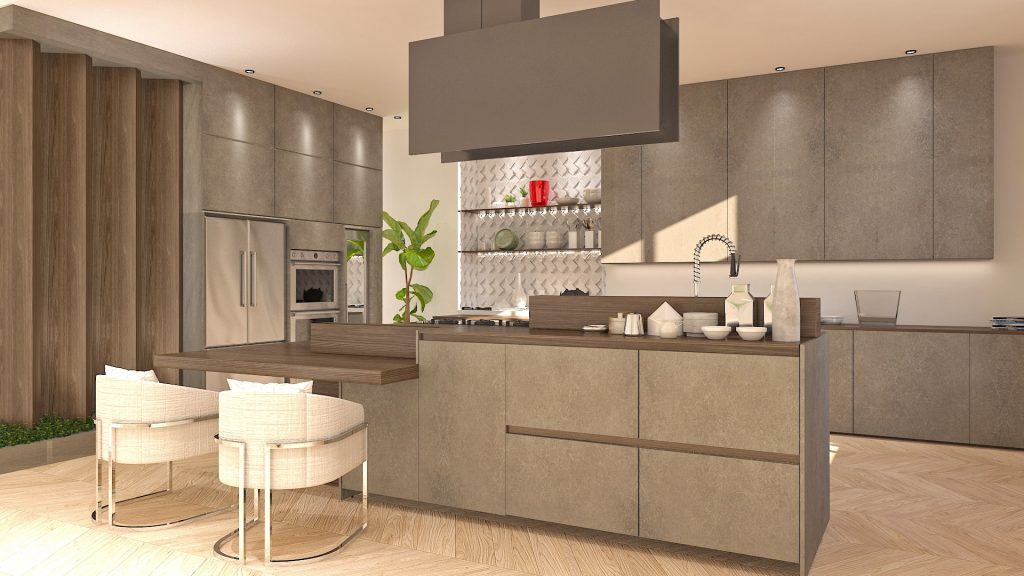 Transform your kitchen into a reflection of your unique personality and style. Display your favorite cookbooks on open shelves, incorporate artwork that speaks to you, or introduce a chalkboard wall for jotting down recipes and grocery lists. These personalized touches infuse character and warmth into your culinary haven, making it uniquely yours.
Personalization is the final and most important step in designing your dream kitchen. It's the process of infusing your kitchen with your unique tastes, preferences, and memories. Open shelves are an ideal canvas for displaying your favorite cookbooks, cherished dishes, or heirloom pieces that have been passed down through generations. Artwork, whether it's paintings, prints, or sculptures, adds a layer of aesthetics and personal expression to your kitchen. A chalkboard wall not only serves a functional purpose by helping you stay organized but also offers a platform for creativity, where you can jot down recipes, grocery lists, or heartfelt messages.
Conclusion
Designing a dream kitchen in 2023 is an exciting journey. It's about creating a space that not only looks fantastic but also functions seamlessly to meet your lifestyle needs. By embracing open concept living, nature-inspired color palettes, sustainability, smart technology, efficient storage solutions, mixed materials, bold backsplashes, stylish lighting, cozy seating areas, and personalized touches, you can craft a kitchen that truly embodies your vision.
Your dream kitchen should be a place where culinary adventures unfold, where conversations flow, and where memories are created. In Lithuanian, the word for kitchen is 'Virtuvė,' and it's the heart of your home. So, roll up your sleeves, put on your chef's hat, and embark on the journey of cooking in style in your 'Virtuvė' – your dream kitchen.
If you're hungry for more interior design inspiration, especially for kitchens, be sure to visit our website. There, you'll discover a treasure trove of ideas and resources to elevate your home's style and functionality.